PITCH TO PUBLISH! WRITING COACHING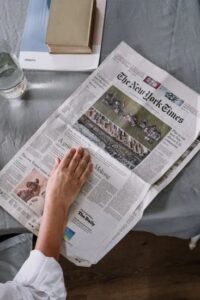 Instant gratification takes too long. Writers of all levels will be given the opportunity to receive feedback on their work as well as placement suggestions from a professional writer and coach. Alyssa will give you the keys to getting published in top magazines and the mentorship and support it takes to get there. This includes mentorship, coaching, editing, warm contacts and introductions, networking tips, insider tips, and proofreading. Subject specialties include non-fiction,  travel, food, essays, and humor. We currently have a 100% success rate with students publishing their work in the New York Times, L.A. Times, Atlas Obscura, Lonely Planet, Matador Network, New York Times, and more.
Each month Alyssa will:
Read your work for blogs, publications, social media posts, etc.
Brainstorm outlets for story ideas (distribution list creation)
Review your story ideas
Accountability coaching
Provide you with deadlines and organizational tools
Brainstorm, compose, edit and review query letters
Provide with detailed, line-by-line feedback on query letters
Work with your draft until final submission for stories and query letters
Provide hand-selected suggestions from the 21K Girl Gone Global Rolodex for your audience (editors, publicists, and more)
Provide strategy on how-to choose: Influencing, blogging, or getting published in traditional publications
Review and help you write your influencer or blog content
Be accessible and available to your unlimited questions, and concerns
Provide you with insider industry information and tips for calls from editors, and even potential editorial jobs
Provide you the secret formula to pitching, the query letter template
Be your cheerleader from idea to pitch to publish!
*Add on: $250 investment per warm, hand-selected contact
*Add on: $250 per hour for ghostwriting
*Add on: $500 per direct introduction
$1997 per month, 6-month minimum